UPVC Fascia , Soffits, Cladding and Guttering
Roofline is the name given to the woodwork which finishes off the area around the eaves or roof of your property and is open to daily attack throughout the year from snow, rain, wind and even the blistering summer sun.
Bury Double Glazing believe that the original wooden fascia and soffit boards on your home should be fully removed and replaced with upvc fascia and soffits rather than simply capping them over the orginal like some cheap roofline companies.This ensures that boards are fixed to a sound surface and complies with the manufacturers installation guidelines
Maintaining your existing timber roofline is not only time consuming, it costs money too.Rotting timber can really let your home down causing structural damage,and water penetration . Before rot and decay set in consider replacing your old woodwork with our quality, weather-resistant, long-lasting UPVC (plastic)solution,no more painting nor repairing, no matter whatever the weather?
The good thing about the range of replacement PVCu products installed by us is that once the work is done, you never have to give it a second thought. Our fascias,soffits, bargeboards guttering, downpipes and cladding do not warp, crack, flake, pink or peel. Ever.
Over 20 years experience means that you can be assured that your home will be in very safe hands when installing your new roofline products You'll be surprised how inexpensive it can be to replace your old decaying timbers with our maintenance free products not only will they improve the look of your property,but also add value to your home .
Being approved installers of Swish and Homeline upvc products enables us to offer the complete range together they provide the best system on the market for all areas of your property ,gable ends,garage garage roof,canopy, felt roof ,dormers . Any roofer or roofing contractor can provide you cheap replacement fascias ,soffits and guttering but very often product quality or installation isn't as good and often the original timbers are just capped over.We will be happy to provide a free estimate for you to compare our prices and are sure you will be amazed at the cost and quality of our product. We will suggest the best solution for your project not simply to make a sale .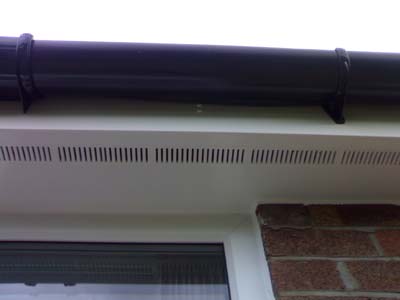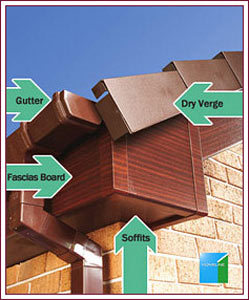 Benefits of upvc fascias, soffits, barge boards, cladding and guttering
No more expensive re-painting or maintenance
Keep water away and let air in, stopping rot
Resistant to insects, pollution, acids, alkaline's, birds and bats
Improve your homes good looks and add value
No more struggling to get to those dangerous areas
Rock solid guarantee
Fit it and forget it and relax
Related Links
DOWNLOAD BROCHURE FOR ROOFLINE