Fascia , Soffits, and Gutter cleaning Manchester
At A6 Windows having been installers of upvc rooflines for over 20 years now have been asked by our customers about Gutter and Fascia cleaning.Customers realize fascias, soffits and guttering are best cleaned on a regular basis on your property so as to keep your fascias soffits and gutters plus your property at there best . Over a period of time your gutters can become full or even blocked by all sorts of debris, tennis balls, dead birds, moss or just leaves etc from nearby trees.
A regular inspection and clearout will avoid costly repairs should the worst happen. The guttering, fascia and soffits also benefit from a good clean from time to time as well. Once upvc guttering and fascias have become really black and soiled they can be very difficult to restore. An annual clean will keep them looking great all year long.
A full emptying and check of downspouts and joints cost around £40 per side.
A full clean of gutters, fascias and soffits will cost on average £55 per side.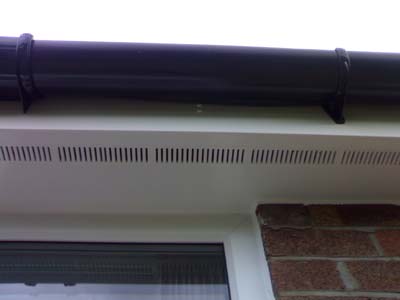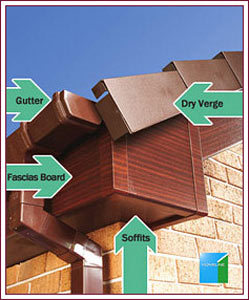 We provide Fascia Cleaning for domestic clients throughout Greater Manchester. uPVC comes with that nice clean gleam that over time becomes dull, faded and sometimes covered with grime. We provide professional fascia cleaning services that will restore that natural shine. Fascia cleaning is more cost effective than replacing existing fascia's and produces great results. With our professional fascia cleaning equipment the job can be done quickly and effectivly cleaning all of those hard to reach area's around your property. Our fascia cleaning services is a quick and cost effective way to present your property if your thinking of selling!
Benefits of upvc fascias, soffits, barge boards and guttering cleaned by A6 Windows some items carry extra charges
Completely remove all your dirt and grime from roofline, fascias, soffits, guttering and barge boards.
Able to sort out any roofline problems due to being registered installers(possible extra charge.
we will check all gutters for leaks and repair as necessary(possible extra charge)
Full access equipment due to being roofline installers.
Replace your roof tiles back into the correct position.
Fully insured.
Tidy up and remove all the debris from the site.