Bifold Doors
Create a dramatic impact with our upvc(pvcu) BI-FOLD sliding doors. We are pleased to introduce the Profile 22 multi fold door-the door to extend interior to exterior of your property.
The Profile 22 Bi folding door is available in a number of configurations to suit your needs.Boasting superior engineeering design to give outstanding versatality and complement your lifestyle.
Your BIFOLD DOOR will glide easily on its stainless steel track and rollers, making opening and closing effortless.requiring little maintenance these doors really do bring the garden into your room. upvc Bi-Folding Doors- glass doors fold all the way back giving an uniterrupted opening making excellent Room Dividers unlike our french doors and patio doors if this is what you would like our bi folding glass doors would be our recommendation .We are more than happy to supply you with a free estimate.Any company can provide you cheap replacement upvc bifold doors, cheap Bi Folding Doors very often do not come with the features and benifits of upvc Folding Doors installed by us and very often many are not Fensa registered.We will be happy to provide an estimate for you to compare our prices and are sure you will be amazed at the cost and quality of our product.
WE CAN ALTER A WINDOW OPENING SO YOU CAN HAVE A BIFOLD DOOR, UPVC PATIO OR A UPVC FRENCH DOOR!
We also do conversions from flat windows to BIFOLD, PATIO or FRENCH doors all fitted to such a high standard that your home will look as if these were installed as a part of the original building.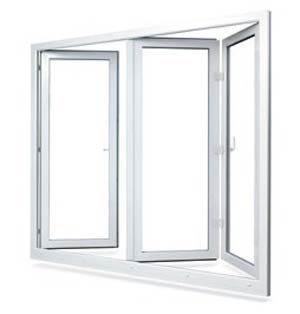 Our BIFOLD doors have the following features:
Anti-lift devices
Internal Beading
Key locking handle and high-security locking bolts
Steel reinforcement and fully welded joints
pilkington "k" glass and low "E"
Anti-slam device
Door sleeves fold back fully to optimize opening area
Easy opening as door concertinas smoothly
Triple chamber system ensures good thermal insulation.
Accommodates standard locking mechanisms including high security bolt systems.
Single leg glazing beads and retention detail ensures easy yet secure on-site glazing.
Profile 22 is renowned for its quality, which is shown in its gloss finish, providing long lasting appearance and reduced maintenance.
Vigorous in-house weather testing completed
White, Rosewood & Light Oak Profiles Available
White, Gold, Silver or Black Handles Available
Energy and sound efficient 28mm double-glazed panels