A6 Windows recently worked on Diy Sos Manchester Homes for Veterans
The Big Build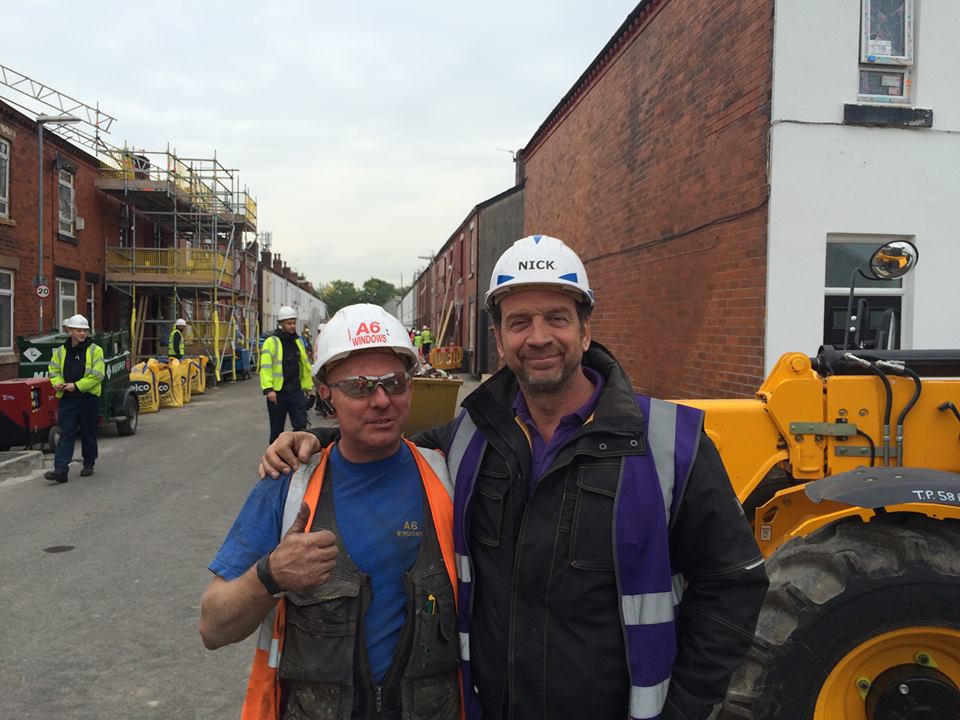 Paul with Nick Knowles from diy sos
A6 Windows
has over the last 14 days contributed its skills along side other volunteers to help the BBC's DIY SOS Veteran's Village project at Canada Street and New Street Newton Heath Manchester. Our team has been working alongside other constructions firms and volunteers to develop a veterans community by bringing 25 empty homes back into use in east Manchester.
The Team have Stripped out floors plus joists then renewed , Taken out walls , erected walls , fitted windows and doors , staircases , kitchens , made cabinets , fitting doors , assisting with the roofing, as well as providing general labour and support in all areas of the project with every one helping others "Nick Knowles even said the BBC thought it impossible " .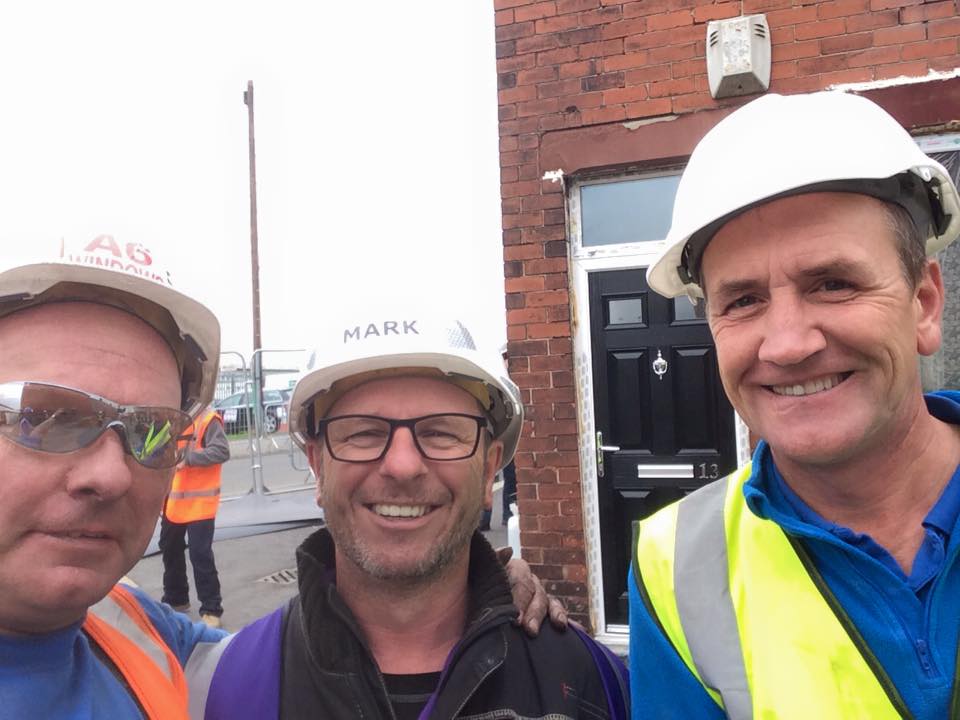 Mark from the show
Paul from A6 Windows found out about the project on the evening of 14th september and promptly phoned customers up to rearrange jobs all of whom were fully understanding when they found out what A6 Windows were doing to help provide veterans with property.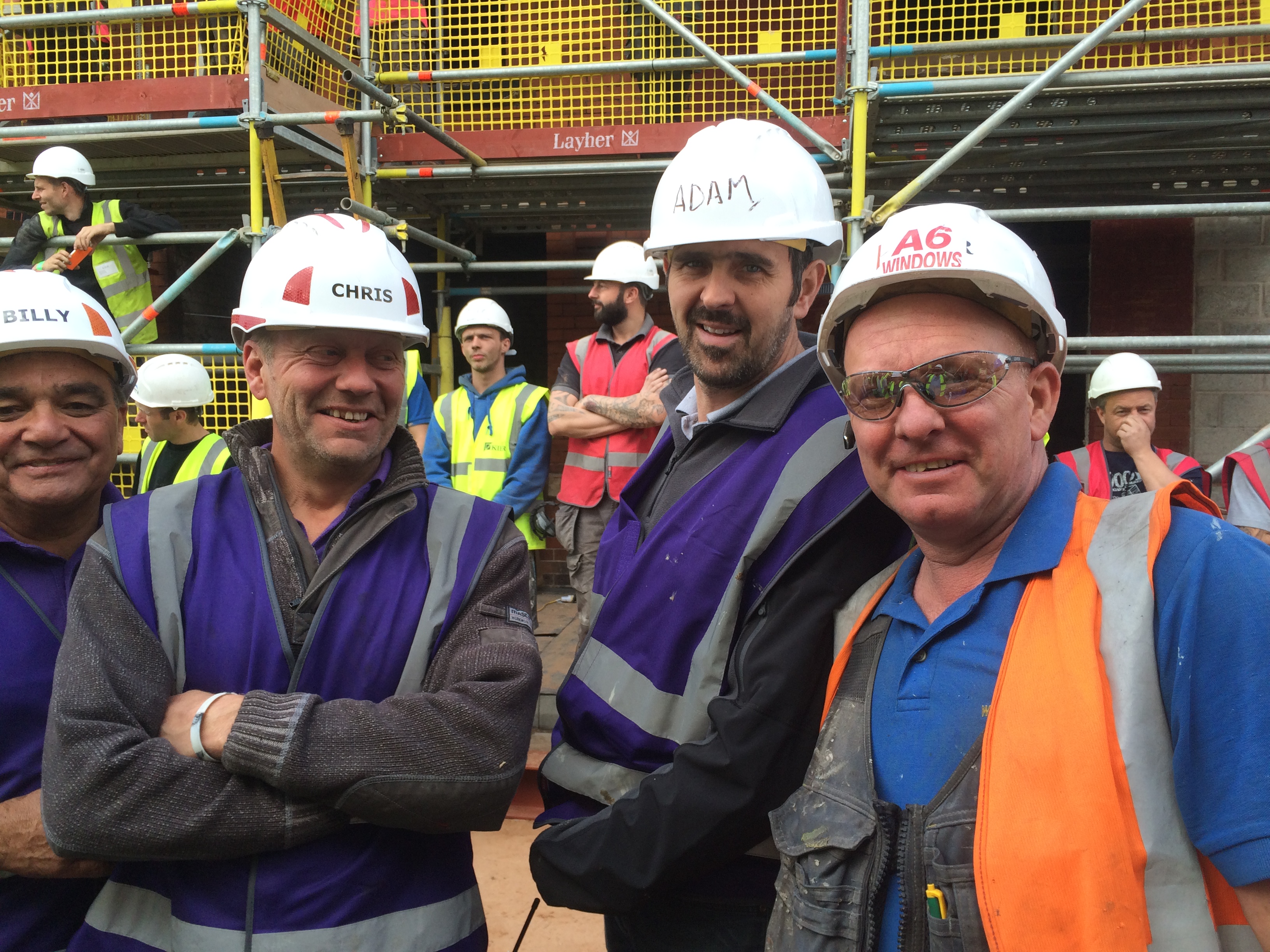 Cast from the show
During the first phase, eight of the street's empty property were refurbished to create three larger adapted residential homes for veterans and their families one complete with lift for its amazing new tennent , one standard size property and a veteran walk-in support and advice centre – all by the end of September.
The aim of the project was to create a veterans' housing community within the existing community, the advice centre will have a private space for therapy and counselling – run by Walking With The Wounded – and provide a space for community use.Training and employment opportunities are being developed for veterans and existing residents.
At the same time, street scene improvements will provide disabled access parking, a planting scheme will be introduced, and each of the 62 properties on the street will receive a facelift – ready for a group of veterans and their families to move in at the end of the month .
Nick Knowles, the BBC DIY SOS presenter, said: "We couldn't have done this without the amazing support of all these trades. The enormous amount of help – in time, materials, labour and much more- is a tribute to our nation's building industry."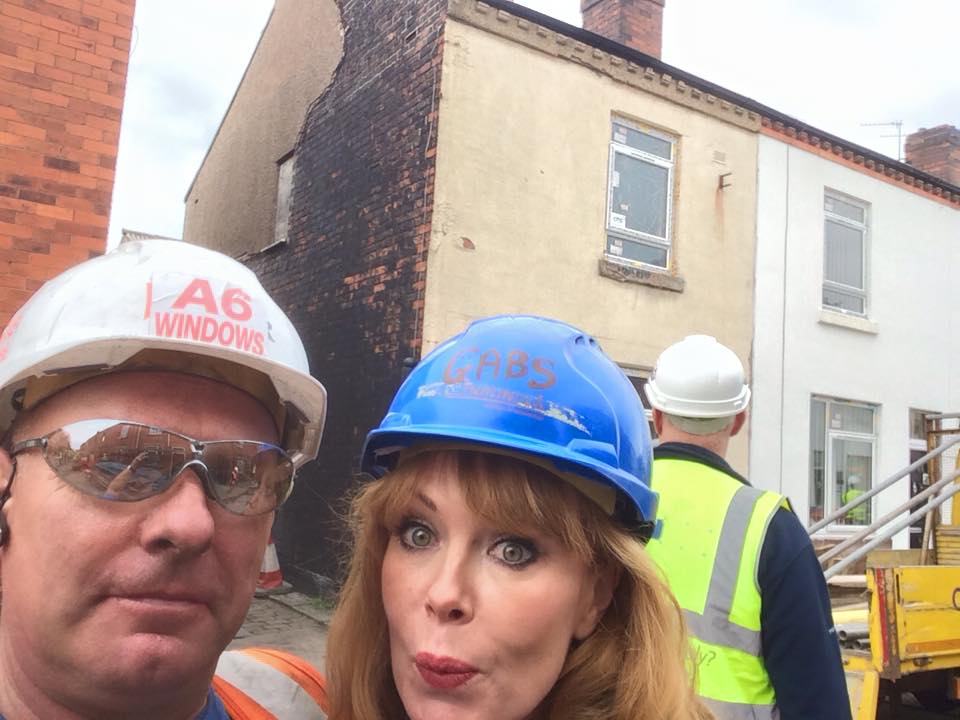 Gabby from the show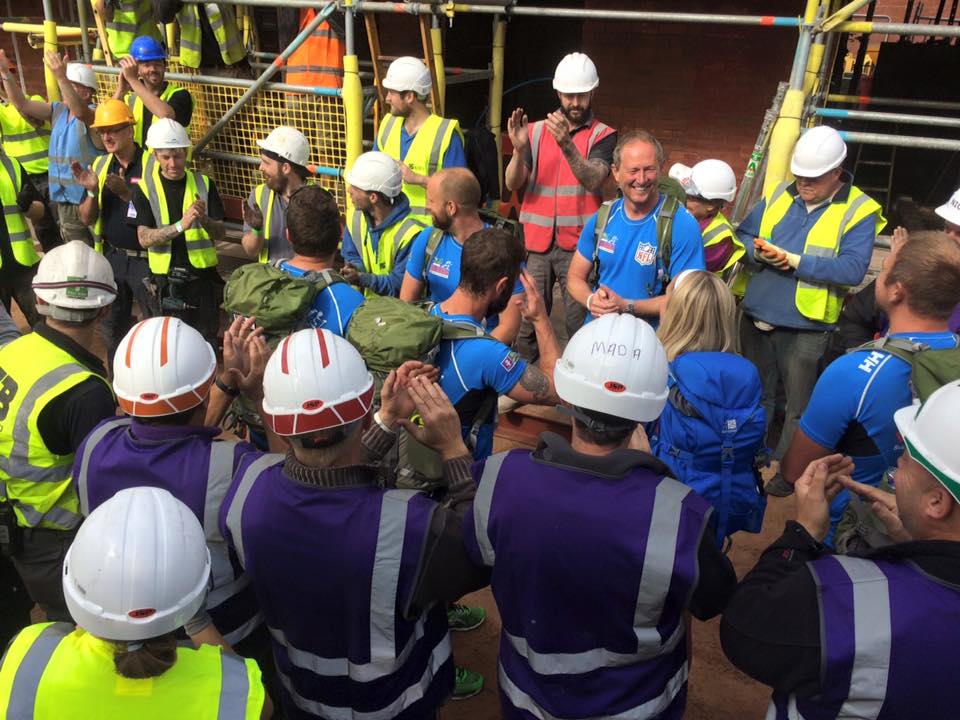 Visit from Walking wounded
The Walking Wounded Visit the site 19th September 2015:
For me was an emotional day due to visit from the walking wounded a group of army veterans some of them amputees who are walking the country to raise money and awareness of the plight for many of our armed forces who are left with horrific injuries wether it be loss of limbs or the invisible mental issues that many have to deal with on there own while trying to integrate back into society . This same society us the public take for granted all because these veterans and those who now stand in there place put themselves in adversity every day so that our families can live the life we are accustomed to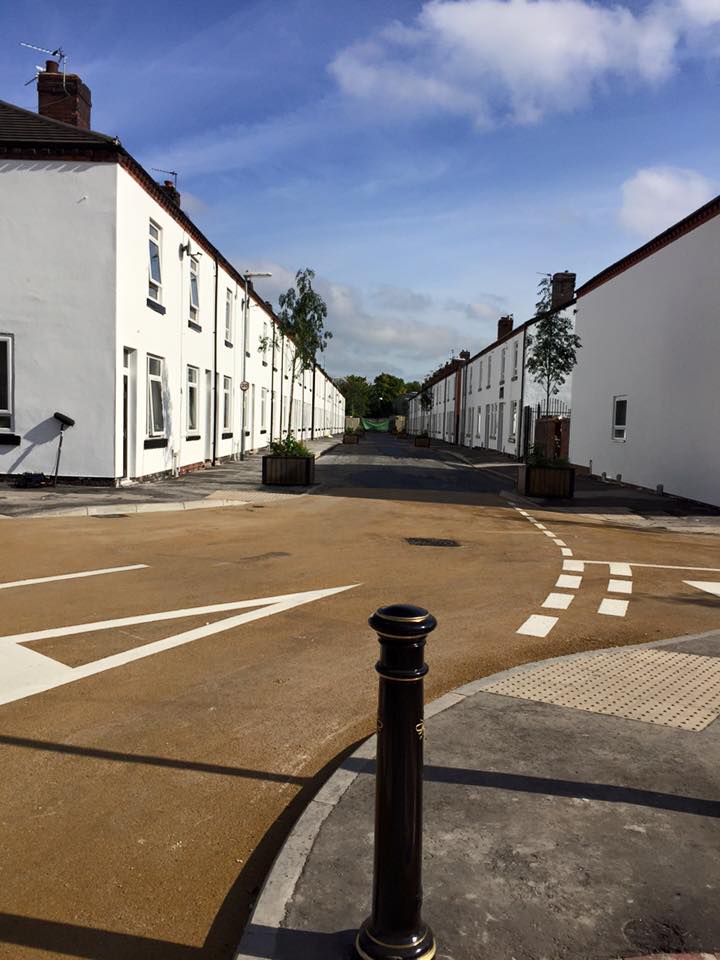 Finished outsides of properties
Completed properties will offer opportunities for veterans to get on the housing ladder with options including shared equity, discount purchase and rent to buy a property.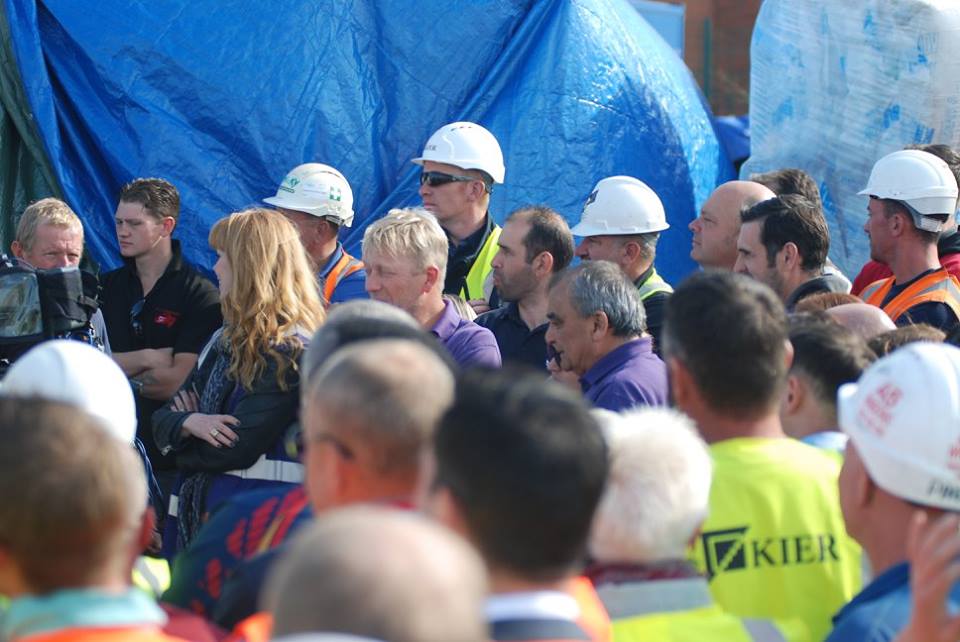 The reveal
The Charity Haig Homes will welcome any further support the construction industry can provide – especially as the project moves into its second phase where the remaining 17 empty properties will be refurbished by the charity Haig Housing. A6 Windows has offered further help to Haig Housing on phase two along with other volunteers from phase 1 .Hopefully this amazing project will roll out across the uk and our veterans will get the treatment they deserve after all they have stood in the face of danger so we can sleep soundly
A6 Windows has thoroughly enjoyed working alongside other amazing people who volunteered there help on this project the biggest ever done on Diy Sos and have met some life long friends
Bury Double glazing Windows & Doors
Bury Double Glazing offer property owners a tailor made property improvement service for Bury double glazing upvc windows , doors , conservatories and upvc replacement roofline. Installed in your property to exacting standards from a company that takes great care and pride combined with a commitment to providing advanced upvc products using the best products, with pvcu window and door frames from Profile 22 and glass from Pilkingtons in all its replacement windows and doors installations to give your property that elegant new look. We supply to types of property throughout Bury and the North West UK, that therefore includes much of Lancashire , Greater Manchester and Cheshire . We create bespoke home improvements, professionally installed by reliable and skilled craftsmen, double glazing that enhances the character (and value) of your property.
As a company we do not employ sales people; in fact the person who visits you from our company is usually one of the team of installers who will install your job .You will therefore be able to ask questions without getting any hard sales tactics . We give our best price first time around with no pressure or obligation and NO CALLS TO THE MANAGER. If you like what we do, then you will decide to use us. We are really proud of the fact that around half of all the business we handle every year comes directly as a result of being recommended by an existing customer. It's no surprise then that we believe satisfied customers are our best advertisement .
Being a FENSA registered installation company means all window and door installations are carried out to the standards set by FENSA, the governing body for the glass and glazing industry -something a lot of cheap window companies in Bury cannot offerFENSA. All our upvc window and door replacement installations are carried out in a clean and efficient manner and we are committed to developing and installing quality products and offering our customers great value and outstanding service.
All our windows and doors are made using Profile 22 fully sculpted profile giving a pleasing featured look and are glazed with energy efficient pilkington "k" glass or low "e" units all carry a 10 year guarantee as standard . We supply and fit a range of tailor made double glazing windows in bury that will do what you expect of them and which are covered by comprehensive guarantees.But our aim is to make our replacement upvc windows affordable to all .And all this From a company that has been trading since 1989 something Cheap upvc replacement windows fitters cannot boast
Replacement Upvc Roofline Bury
We are also registered installers of Swish and Homeline Roofline products and offer a supply and installation service for replacement Upvc fascias, soffits and guttering to domestic customers in Bury. Upvc replacement roofline boards offer a low maintenance alternative to traditional timber. No painting. No rot.Once installed the Upvc boards will need almost no maintenance, an occasional clean with cream cleaner is all that is required. With over 22 years installing Upvc fascias, soffits cladding and guttering we can offer a competitive price and high quality of workmanship to your property-